Chapter By Chapter: Psalms
This study breaks down the book of Psalms using my
Chapter By Chapter
Bible study template. The short version: for each chapter, I write down a
summary
, the
meaning
in the larger context of the book, and a representative
verse
. Get the
full rundown
, or use it for your own study by filling out the form below.
Do Your Own
Chapter by Chapter
Bible Study
Get started with your own chapter-by-chapter study today.
Print out this handy template for yourself, your family, or your small group. You can use this simple format to understand any book of the Bible, from Ruth to Romans to Revelation.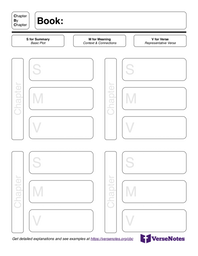 The man who avoids the wicked, the sinful, and the cynical, but delights in God's laws, is blessed. He will prosper under God's guidance, but the wicked will perish away from it.
Delight is found in the laws of God; they are therefore worthy of meditation. Those who are evil, those who do evil, and cynics can all pull you astray, but those who follow God's path will be planted and fruitful forever.
2: His delight is in the law of the LORD, and on his law he meditates day and night.
Kings and nations struggle to get out from under the hand of God and to kill His people. God laughs at all their effort, and points to His King in Zion, His Son who is the inheritor of all things and who will destroy those who defy him.
The King spoken of is Jesus, who reigns from Jerusalem and frustrates all plots against him. In His crucifixion and resurrection, He destroyed the greatest force against Him and death itself. Hebrews 1:5 confirms that Jesus is the King and Son.
7: I will tell of the decree: The LORD said to me, "You are my Son; today I have begotten you.
The psalmist, David, sees innumerable enemies and cries out to God for protection. In that confidence, he is able to sleep soundly and face his foes.
David tells God his troubles while also proclaiming his trust in Him. He knows that God alone sustains us as we sleep and protects us when we awake. He waits for God to take vengeance, for "salvation belongs to the Lord."
3: But you, O LORD, are a shield about me, my glory, and the lifter of my head.
David cries out to God over men who seek value and comfort apart from God and proclaims that God hears his prayers.
Because God has helped us in the past, we can know He will help us in the future. Seeking love in lies or delight in food and wine is vain; instead, trust God, and rest in peace.
1: Answer me when I call, O God of my righteousness! You have given me relief when I was in distress. Be gracious to me and hear my prayer!
David tells God that his enemies are liars and rebels against God, but he is righteous and steadfast. He prays his enemies' lies will let them down, but those who take refuge in God would be protected.
Prayer and preaching combined: David reminds himself (and his audience) of God's steadfastness, that He protects those who take refuge in him. Only vv10–11 are supplication; prayer is not always asking for something.
12: For you bless the righteous, O LORD; you cover him with favor as with a shield.
The psalmist (David) is deeply troubled and grieving and cannot see the end, but he trusts that God will eventually comfort him.
David cries out in grief and pain, simply laying his heart on God. He reminds himself (and God!) of God's promises and steadfast love.
8: Depart from me, all you workers of evil, for the LORD has heard the sound of my weeping.
David calls on God to judge the earth—to destroy the unrepentant and the wicked and to declare him innocent. He praises God's perfect justice and righteousness.
David sets up a courtroom, where he believes himself innocent and his enemies guilty. He calls on God to enact judgment not "some time" but "every day"—God is always active and watchful; He does not sleep.
8: The LORD judges the peoples; judge me, O LORD, according to my righteousness and according to the integrity that is in me.
David praises God for his majesty and glory reflected in the creation, and wonders that such a God would condescend to care about men, even granting them authority over the rest of creation.
David delights in the wonder of God's creation; it lifts up his eyes from his worldly troubles into the things of God. His awe at God's caring for man is turned into prophecy of the reign of Jesus in Hebrews 2:6.
5: Yet you have made him a little lower than the heavenly beings and crowned him with glory and honor.
David praises God for deliverance from hostile nations (not personal enemies) and calls on Israel to join him in praise. He prays for God's continued judgment.
Almost an acrostic (with Genesis 10). Refers to Israel's deliverance from cities and nations, not just David's deliverance from his enemies. God operates on the scale of empires as well as for individuals.
11: Sing praises to the LORD, who sits enthroned in Zion! Tell among the peoples his deeds!
God hides his face from David, who watches wicked men rejoice in their success and evasion of judgment. David proclaims that God will judge.
There is a difference between patience and ignorance. Though the wicked prosper, do not walk in their way (Psalm 1)—God's patience with them will run out, but He will always hear the prayers of the afflicted.
17: O LORD, you hear the desire of the afflicted; you will strengthen their heart; you will incline your ear.
David rejects a call to flee to the mountains, saying he will take refuge in God, who loves the righteous and hates the wicked. He proclaims that the righteous will see God's face.
When the foundations of order break down and it seems the wicked are winning, many will despair and flee, but the righteous will trust in God's judgment. Jesus affirms (Matthew 5:8) that the pure in heart will see God.
7: For the LORD is righteous; he loves righteous deeds; the upright shall behold his face.
David prays for safety when the wicked, the faithless, and liars are all around.
The eternal words of the Lord are "like silver…refined seven times", while the words of liars are at the same time violent and empty.
6: The words of the LORD are pure words, like silver refined in a furnace on the ground, purified seven times.
David feels God's absence during an illness and calls on Him to help David for His name's sake. David preaches to himself God's steadfast love.
One of many psalms that speaks of God's hiding or showing His face. David fears, but does not despair, because God has always dealt "bountifully" with him in the past.
1: How long, O LORD? Will you forget me forever? How long will you hide your face from me?
David laments the total lack of people who do good, "not even one." He pleas with God for salvation for Israel, to "restore the fortunes of [God's] people".
The last time there were no good men, God flooded the Earth. David therefore seeks salvation, not destruction. Later, Jesus will agree with David":" "there is none good but God."
4: Have they no knowledge, all the evildoers who eat up my people as they eat bread and do not call upon the LORD?
David describes a person worthy of dwelling with God":" blameless, doing what is right, speaking truth, not slandering, doing no evil, discerning evil, honoring those who fear God, not changing, not lending, not taking bribes.
David looks at his world and sees its ills. We see the kind of man David believes to be righteous, and it seems impossible—which may be his point, that we all need God.
1: O LORD, who shall sojourn in your tent? Who shall dwell on your holy hill?
David praises God for His blessings and His counsel, which allow David to have unshakeable confidence as well as delight, gladness, and fullness of joy.
David proclaims God's saving hand keeping His faithful followers from Sheol (the grave). Later (Acts 2:31), Peter applies the same logic to Jesus, saying David had prophesied Jesus's resurrection.
11: You make known to me the path of life; in your presence there is fullness of joy; at your right hand are pleasures forevermore.
David praises God for His Word, by which David has remained righteous. He calls on God to remain steadfast and protect him from his enemies. He sees that the wicked appear to be satisfied in this life, but he looks forward to seeing God after he dies.
God's Word helps David (and us) follow God's way. Even when it appears the wicked prosper and do not suffer, those who follow God look forward to a better, eternal, future.
15: As for me, I shall behold your face in righteousness; when I awake, I shall be satisfied with your likeness.
David was near death from enemies, but God saved him. God appears in violent nature: an earthquake and a mighty beast, thunder and hail. David praises God's justice, giving to both good and evil what they deserve. With God's help, David's victory is complete.
This psalm is (mostly) from 2 Samuel 22. It has three parts: 1) God delivers David from mortal danger; 2) David follows after God, so God saves him; 3) God helps David. David concludes that God and David have both acted according to their covenant.
50: Great salvation he brings to his king, and shows steadfast love to his anointed, to David and his offspring forever.
All of creation speaks of God's glory, so that no one can miss it. The Word of God is more valuable than anything, offering restoration, wisdom, joy, enlightenment, longevity, and righteousness.
Jesus later reminds a centurion that if the crowd were silent, the rocks would sing—in fact, they already do. Paul quotes verse 4 to say that the gospel of Christ has gone out to the entire world.
14: Let the words of my mouth and the meditation of my heart be acceptable in your sight, O LORD, my rock and my redeemer.
David prays for God's salvation before a battle. He reminds Him of the sacrifices in honor of the covenant. He denies the strength of chariots and horses in the face of God.
At least two participants: the army (verses 1–5 and 7–9) and an officiant (verse 6). The chariot was the pinnacle of military might, so the petitioners proclaim God supreme over the greatest of human effort.
7: Some trust in chariots and some in horses, but we trust in the name of the LORD our God.
God has granted the king's request and given him victory. The king, David, trusted in God, and God destroyed his enemies. Just as David and his line are blessed forever, his enemies and their children are destroyed.
Literarily, a response to the previous psalm, although they're not necessarily linked. The two halves (2–6 and 8–12) proclaim the recent salvation of the king and all his future victories, respectively.
7: For the king trusts in the LORD, and through the steadfast love of the Most High he shall not be moved.
David cries to help from God, but doesn't see His deliverance. He recounts God's past deliverance, but nevertheless fears his present circumstance. He envisions praising God when deliverance comes, and vows to do so publicly.
The source of Jesus's cry as he hung on the cross, bringing to mind all the suffering of which David wrote, but also the sure salvation. Hebrews turns David's vows into Jesus's promises. David envisions Revelation, where the whole earth sings the praise of God. The most-quoted psalm in the New Testament.
1: My God, my God, why have you forsaken me? Why are you so far from saving me, from the words of my groaning?
David compares God to a shepherd who feeds and waters his sheep in safety. He relies on God's power to comfort him in the darkest night. God welcomes him to a banquet and anoints him with oil as an honored guest. David belongs to God forever.
David uses two images to describe the relationship of God and man: the shepherd who protects and provides for his sheep, and the sovereign king who protects and provides for his loyal subject. David is the prophet-priest-warrior-poet-king of Israel, and he knows God is still greater.
5: You prepare a table before me in the presence of my enemies; you anoint my head with oil; my cup overflows.
The Lord is the creator of earth. The righteous may enter His sanctuary. God is welcomed into Jerusalem and into the temple in joy and victory.
A jubilant processional hymn that starts by proclaiming God Lord of all, invites the crowds into the temple to receive him as a triumphal king, and then throws wide the gates to the victorious conquering God.
9: Lift up your heads, O gates! And lift them up, O ancient doors, that the King of glory may come in.