Chapter By Chapter: Psalms
This study breaks down the book of Psalms using my
Chapter By Chapter
Bible study template. The short version: for each chapter, I write down a
summary
, the
meaning
in the larger context of the book, and a representative
verse
. Get the
full rundown
, or use it for your own study by filling out the form below.
Do Your Own
Chapter by Chapter
Bible Study
Get started with your own chapter-by-chapter study today.
Print out this handy template for yourself, your family, or your small group. You can use this simple format to understand any book of the Bible, from Ruth to Romans to Revelation.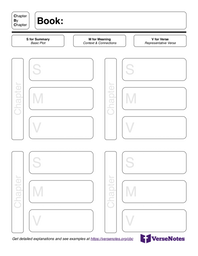 The man who avoids the wicked, the sinful, and the cynical, but delights in God's laws, is blessed. He will prosper under God's guidance, but the wicked will perish away from it.
Delight is found in the laws of God; they are therefore worthy of meditation. Those who are evil, those who do evil, and cynics can all pull you astray, but those who follow God's path will be planted and fruitful forever.
2: His delight is in the law of the LORD, and on his law he meditates day and night.
Kings and nations struggle to get out from under the hand of God and to kill His people. God laughs at all their effort, and points to His King in Zion, His Son who is the inheritor of all things and who will destroy those who defy him.
The King spoken of is Jesus, who reigns from Jerusalem and frustrates all plots against him. In His crucifixion and resurrection, He destroyed the greatest force against Him and death itself. Hebrews 1:5 confirms that Jesus is the King and Son.
7: I will tell of the decree: The LORD said to me, "You are my Son; today I have begotten you.
The psalmist, David, sees innumerable enemies and cries out to God for protection. In that confidence, he is able to sleep soundly and face his foes.
David tells God his troubles while also proclaiming his trust in Him. He knows that God alone sustains us as we sleep and protects us when we awake. He waits for God to take vengeance, for "salvation belongs to the Lord."
3: But you, O LORD, are a shield about me, my glory, and the lifter of my head.
David cries out to God over men who seek value and comfort apart from God and proclaims that God hears his prayers.
Because God has helped us in the past, we can know He will help us in the future. Seeking love in lies or delight in food and wine is vain; instead, trust God, and rest in peace.
1: Answer me when I call, O God of my righteousness! You have given me relief when I was in distress. Be gracious to me and hear my prayer!
David tells God that his enemies are liars and rebels against God, but he is righteous and steadfast. He prays his enemies' lies will let them down, but those who take refuge in God would be protected.
Prayer and preaching combined: David reminds himself (and his audience) of God's steadfastness, that He protects those who take refuge in him. Only vv10–11 are supplication; prayer is not always asking for something.
12: For you bless the righteous, O LORD; you cover him with favor as with a shield.
The psalmist (David) is deeply troubled and grieving and cannot see the end, but he trusts that God will eventually comfort him.
David cries out in grief and pain, simply laying his heart on God. He reminds himself (and God!) of God's promises and steadfast love.
8: Depart from me, all you workers of evil, for the LORD has heard the sound of my weeping.
David calls on God to judge the earth—to destroy the unrepentant and the wicked and to declare him innocent. He praises God's perfect justice and righteousness.
David sets up a courtroom, where he believes himself innocent and his enemies guilty. He calls on God to enact judgment not "some time" but "every day"—God is always active and watchful; He does not sleep.
8: The LORD judges the peoples; judge me, O LORD, according to my righteousness and according to the integrity that is in me.
David praises God for his majesty and glory reflected in the creation, and wonders that such a God would condescend to care about men, even granting them authority over the rest of creation.
David delights in the wonder of God's creation; it lifts up his eyes from his worldly troubles into the things of God. His awe at God's caring for man is turned into prophecy of the reign of Jesus in Hebrews 2:6.
5: Yet you have made him a little lower than the heavenly beings and crowned him with glory and honor.
David praises God for deliverance from hostile nations (not personal enemies) and calls on Israel to join him in praise. He prays for God's continued judgment.
Almost an acrostic (with Genesis 10). Refers to Israel's deliverance from cities and nations, not just David's deliverance from his enemies. God operates on the scale of empires as well as for individuals.
11: Sing praises to the LORD, who sits enthroned in Zion! Tell among the peoples his deeds!
God hides his face from David, who watches wicked men rejoice in their success and evasion of judgment. David proclaims that God will judge.
There is a difference between patience and ignorance. Though the wicked prosper, do not walk in their way (Psalm 1)—God's patience with them will run out, but He will always hear the prayers of the afflicted.
17: O LORD, you hear the desire of the afflicted; you will strengthen their heart; you will incline your ear.
David rejects a call to flee to the mountains, saying he will take refuge in God, who loves the righteous and hates the wicked. He proclaims that the righteous will see God's face.
When the foundations of order break down and it seems the wicked are winning, many will despair and flee, but the righteous will trust in God's judgment. Jesus affirms (Matthew 5:8) that the pure in heart will see God.
7: For the LORD is righteous; he loves righteous deeds; the upright shall behold his face.
David prays for safety when the wicked, the faithless, and liars are all around.
The eternal words of the Lord are "like silver…refined seven times", while the words of liars are at the same time violent and empty.
6: The words of the LORD are pure words, like silver refined in a furnace on the ground, purified seven times.
David feels God's absence during an illness and calls on Him to help David for His name's sake. David preaches to himself God's steadfast love.
One of many psalms that speaks of God's hiding or showing His face. David fears, but does not despair, because God has always dealt "bountifully" with him in the past.
1: How long, O LORD? Will you forget me forever? How long will you hide your face from me?
David laments the total lack of people who do good, "not even one." He pleas with God for salvation for Israel, to "restore the fortunes of [God's] people".
The last time there were no good men, God flooded the Earth. David therefore seeks salvation, not destruction. Later, Jesus will agree with David":" "there is none good but God."
4: Have they no knowledge, all the evildoers who eat up my people as they eat bread and do not call upon the LORD?
David describes a person worthy of dwelling with God":" blameless, doing what is right, speaking truth, not slandering, doing no evil, discerning evil, honoring those who fear God, not changing, not lending, not taking bribes.
David looks at his world and sees its ills. We see the kind of man David believes to be righteous, and it seems impossible—which may be his point, that we all need God.
1: O LORD, who shall sojourn in your tent? Who shall dwell on your holy hill?
David praises God for His blessings and His counsel, which allow David to have unshakeable confidence as well as delight, gladness, and fullness of joy.
David proclaims God's saving hand keeping His faithful followers from Sheol (the grave). Later (Acts 2:31), Peter applies the same logic to Jesus, saying David had prophesied Jesus's resurrection.
11: You make known to me the path of life; in your presence there is fullness of joy; at your right hand are pleasures forevermore.
David praises God for His Word, by which David has remained righteous. He calls on God to remain steadfast and protect him from his enemies. He sees that the wicked appear to be satisfied in this life, but he looks forward to seeing God after he dies.
God's Word helps David (and us) follow God's way. Even when it appears the wicked prosper and do not suffer, those who follow God look forward to a better, eternal, future.
15: As for me, I shall behold your face in righteousness; when I awake, I shall be satisfied with your likeness.
David was near death from enemies, but God saved him. God appears in violent nature: an earthquake and a mighty beast, thunder and hail. David praises God's justice, giving to both good and evil what they deserve. With God's help, David's victory is complete.
This psalm is (mostly) from 2 Samuel 22. It has three parts: 1) God delivers David from mortal danger; 2) David follows after God, so God saves him; 3) God helps David. David concludes that God and David have both acted according to their covenant.
50: Great salvation he brings to his king, and shows steadfast love to his anointed, to David and his offspring forever.
All of creation speaks of God's glory, so that no one can miss it. The Word of God is more valuable than anything, offering restoration, wisdom, joy, enlightenment, longevity, and righteousness.
Jesus later reminds a centurion that if the crowd were silent, the rocks would sing—in fact, they already do. Paul quotes verse 4 to say that the gospel of Christ has gone out to the entire world.
14: Let the words of my mouth and the meditation of my heart be acceptable in your sight, O LORD, my rock and my redeemer.
David prays for God's salvation before a battle. He reminds Him of the sacrifices in honor of the covenant. He denies the strength of chariots and horses in the face of God.
At least two participants: the army (verses 1–5 and 7–9) and an officiant (verse 6). The chariot was the pinnacle of military might, so the petitioners proclaim God supreme over the greatest of human effort.
7: Some trust in chariots and some in horses, but we trust in the name of the LORD our God.
God has granted the king's request and given him victory. The king, David, trusted in God, and God destroyed his enemies. Just as David and his line are blessed forever, his enemies and their children are destroyed.
Literarily, a response to the previous psalm, although they're not necessarily linked. The two halves (2–6 and 8–12) proclaim the recent salvation of the king and all his future victories, respectively.
7: For the king trusts in the LORD, and through the steadfast love of the Most High he shall not be moved.
David cries to help from God, but doesn't see His deliverance. He recounts God's past deliverance, but nevertheless fears his present circumstance. He envisions praising God when deliverance comes, and vows to do so publicly.
The source of Jesus's cry as he hung on the cross, bringing to mind all the suffering of which David wrote, but also the sure salvation. Hebrews turns David's vows into Jesus's promises. David envisions Revelation, where the whole earth sings the praise of God. The most-quoted psalm in the New Testament.
1: My God, my God, why have you forsaken me? Why are you so far from saving me, from the words of my groaning?
David compares God to a shepherd who feeds and waters his sheep in safety. He relies on God's power to comfort him in the darkest night. God welcomes him to a banquet and anoints him with oil as an honored guest. David belongs to God forever.
David uses two images to describe the relationship of God and man: the shepherd who protects and provides for his sheep, and the sovereign king who protects and provides for his loyal subject. David is the prophet-priest-warrior-poet-king of Israel, and he knows God is still greater.
5: You prepare a table before me in the presence of my enemies; you anoint my head with oil; my cup overflows.
The Lord is the creator of earth. The righteous may enter His sanctuary. God is welcomed into Jerusalem and into the temple in joy and victory.
A jubilant processional hymn that starts by proclaiming God Lord of all, invites the crowds into the temple to receive him as a triumphal king, and then throws wide the gates to the victorious conquering God.
9: Lift up your heads, O gates! And lift them up, O ancient doors, that the King of glory may come in.
David prays for relief from his enemies, for guidance and pardon. He relies on God's faithfulness.
Another acrostic poem (mostly). Has a parallel structure: a prayer for relief, a prayer for guidance, a trust in God's guidance, and another prayer for relief. We go to God for help, we look for His way, He helps us along His way, and in doing so we are helped.
12: Who is the man who fears the LORD? Him will he instruct in the way that he should choose.
David prays for God to discern the righteous from the unrighteous. He counts himself righteous because he does not associate with evil, and he loves God's temple. He delights in God.
David follows the Psalm 1 model: he does not walk with sinners. Psalm 26–28 all relate to God's house, the temple.
8: O LORD, I love the habitation of your house and the place where your glory dwells.
David expresses absolute faith in God's protection, declaring he fears nothing, including enemy armies and war. He claims the temple as his fortress. Then he prays for deliverance from his enemies, of whom he is not afraid.
David claims the temple as his stronghold because God is his strength—he doesn't need an army or a fortress, but only God. He preaches to himself to wait on God when he is afraid.
1: The LORD is my light and my salvation; whom shall I fear? The LORD is the stronghold of my life; of whom shall I be afraid?
David pleas for deliverance from enemies who do not know God. David praises God in confidence that God will hear his prayer. David proclaims God the strength and salvation of His people.
The mention of "temple" connects this psalm with Psalm 27, and the mention of feeding God's people connects it with Psalm 23. David's primary complaint, that his enemies "speak peace" but do not do it, is repeated by Jesus about the Pharisees.
8: The LORD is the strength of his people; he is the saving refuge of his anointed.
A call to worship God for his glory, beauty, and power. Compares the Lord's voice to a thunderstorm rolling across the Mediterranean Sea onto the land, powerful enough to destroy even the cedars of Lebanon.
A carefully structured hymn: two-verse introduction, seven-verse praise of the voice of God, two-verse conclusion. The opening summons places God above all heavenly beings. The Lord is enthroned in his temple, connecting this psalm with the previous ones.
10: The LORD sits enthroned over the flood; the LORD sits enthroned as king forever.
A song of praise and a commitment to future praise. Intended, apparently, for the dedication of the temple. God's anger and our weeping are temporary, but His favor and our joy are eternal.
David speaks of being lifted up as out of the grave, immediately connecting (for us) the salvation of this psalm to the resurrection of Jesus.
12: that my glory may sing your praise and not be silent. O LORD my God, I will give thanks to you forever!
David's prayer for deliverance when even his friends have fled. He trusts God to cradle his spirit. Even when David has given up hope in God, God has not given up on him.
Jesus's cry, "Into your hands I commit my spirit" comes from this psalm (V5), when even His disciples had abandoned Him. In anguish on the cross, Jesus's heart speaks a psalm of profound trust.
24: Be strong, and let your heart take courage, all you who wait for the LORD!
David praises God's forgiveness of sin and the burning need for confession. Follow the God's path rather than being stubborn.
David understands that forgiveness first requires confession, and he calls on his people—and us—to do so and relieve ourselves of that burden.
5: I acknowledged my sin to you, and I did not cover my iniquity; I said, "I will confess my transgressions to the LORD," and you forgave the iniquity of my sin.
A call to praise with instruments and a new song. The praise is for the Lord's steadfast love. The singer recounts creation, direction, protection, and salvation as evidence of this love.
The being that created the world, that directs empires and armies, whose plans never fail forever, who delivers us from death—that being loves His people forever, and they should know they are blessed.
11: The counsel of the LORD stands forever, the plans of his heart to all generations.
David commits to continual praise in response to God's answering his prayers. Instruction in the fear of the Lord: five commands (taste, fear, come, keep, depart) are linked with five "good" results.
Connections to Exodus: Moses's face was radiant after speaking with God; the angel of the Lord literally encamped around Israel; God supplied all their needs in the wilderness. Connection to Jesus: His bones were not broken on the cross.
11: Come, O children, listen to me; I will teach you the fear of the LORD.
David calls on God as a warrior to defend him from slander and as judge to punish them according to their malice.
David knows God's character as protector of those who cannot protect themselves; in this instance, people he has treated well and even fasted and prayed for while they were sick now mock him in his weakness.
23: Awake and rouse yourself for my vindication, for my cause, my God and my Lord!
David describes the wicked person who does not fear God, but instead believes his sins will not be found out. David contrasts him with God's righteousness and abundance.
The wicked person contrasts many of the psalms: instead of meditating on God's law (Psalm 1), he plots trouble while in his bed; instead of his words being acceptable in God's sight (Psalm 19), his words are iniquity and deceit.
5: Your steadfast love, O LORD, extends to the heavens, your faithfulness to the clouds.
David gives examples of the followers of God inheriting the earth and the wicked living only temporarily. For the righteous, there is a future; for the rest, their future is cut off.
A "wisdom psalm" contrasting the reward of the righteous and the wicked; in particular, who will inherit the land and the promises God has made on it and about it? Though the wicked appear to flourish for a time, they vanish, leaving only those who love God.
37: Mark the blameless and behold the upright, for there is a future for the man of peace.
David appeals to God to remember him in a severe illness, which David interprets as a rebuke for David's sins. David's friends retreat, and his enemies take advantage of his weakness.
Elsewhere, David proclaims God's protection against weapons of war, but here he pictures God's arrows piercing him. Even through his illness, he waits on the Lord's deliverance rather than taking his enemies' transgressions upon himself to avenge.
15: But for you, O LORD, do I wait; it is you, O Lord my God, who will answer.
The psalmist laments his mortality and prays for God to remove His disciplinary hand.
The psalmist tries to stay silent so his enemies would have no occasion to question either him or God, but eventually he has to speak. He asks for deliverance from his own sins, from God's discipline, and from the scorn of evil men.
7: And now, O Lord, for what do I wait? My hope is in you.
The psalmist praises God for his deliverance. He tells God of a new set of problems and prays for deliverance from those as well.
As in Psalm 39, the psalmist once again contrasts silence and speaking, but this time the speaking is a proclamation of praise rather than a lament.
9: I have told the glad news of deliverance in the great congregation; behold, I have not restrained my lips, as you know, O LORD.
The psalmist declares God's protection of the weak and calls on Him to save him from enemies. He expresses total confidence that God will triumph over his enemies.
As usual, David begins with a combination of praising God and preaching to himself. He follows up with a prayer, and the sequence gives him confidence to declare, "Blessed be the Lord."
1: Blessed is the one who considers the poor! In the day of trouble the LORD delivers him;
The psalmist remembers worshiping in the Lord's temple, but now laments that he is far from God and oppressed by enemies.
Even far from the temple, far from the land, presumably in exile; even tumbled about as if by a mountain stream; the psalmist declares God's steadfast love day and night. We, like the psalmist, may take hope in God in the darkest, most distant times.
11: Why are you cast down, O my soul, and why are you in turmoil within me? Hope in God; for I shall again praise him, my salvation and my God.
The psalmist looks forward to God leading him back to Zion, to the temple, to the altar, to worship.
A sequel to Psalm 42, a direct prayer to God to relieve their oppression and rescue them from exile. The prayer for return becomes more specific as the verses roll: to Zion, to the temple, to the altar, to God Himself.
3: Send out your light and your truth; let them lead me; let them bring me to your holy hill and to your dwelling!
The psalmist remembers Israel's conquest of Canaan at God's hand. He compares that time of prosperity and victory to the present oppression, defeat, and shame. He believes the nation has remained loyal to God and calls on Him to rectify the situation.
One of the rare, remarkable assertions that God has actually hidden His face from His people. If God helped their ancestors, and they have not turned away from God, and yet they are defeated, surely God has turned away from them, so they are in distress.
24: Why do you hide your face? Why do you forget our affliction and oppression?
A psalm apparently composed for a king's marriage to a beautiful princess. The psalmist praises the king for his military might, his righteousness, and his beauty. He calls on the bride to forsake her fathers and cleave to the king.
The author of Hebrews re-contextualizes this psalm as addressing Jesus Christ as the beautiful, righteous warrior, making the church the princess, and the call to abandon our fathers and cling to Jesus, our King.
16: In place of your fathers shall be your sons; you will make them princes in all the earth.
God remains a fortress even if creation is undone (the land sink into the sea). The fortress is supplied by a river and defended by God Himself. His triumph will lead to the end of war, so His people may be still and worship Him.
Inspiration for Martin Luther's hymn "A Mighty Fortress Is Our God". The river recalls Eden, especially because the real Jerusalem does not have such a river. We need not search elsewhere for help; we may be still.
10: "Be still, and know that I am God. I will be exalted among the nations, I will be exalted in the earth!"
A celebration of God's universal reign, the psalm looks forward to a time when all nations bow down and His people inherit the whole earth. God is seen as entering the temple to take His place on His throne.
An uncommon vision of universal evangelism in the Old Testament: God will be worshipped not only in Jerusalem by Jews by everywhere He reigns by all peoples. Other psalms with this vision of the Great King are Psalm 92:–Psalm 100:.
7: For God is the King of all the earth; sing praises with a psalm!
A celebration of Zion as the city of God, the great King. All acknowledge her beauty and His eternal righteousness. The refuge of God's people is God Himself, not walls or palaces. All generations should hear of His glory.
Another "Great King" psalm like Psalm 47: looking forward to God's universal reign. God's people recognize and rejoice in His protection. The command to tell each new generation of God comes down to us as well.
13: Consider well her ramparts, go through her citadels, that you may tell the next generation.
A psalm of wisdom regarding being poor and being rich. The wealth of the rich does not save them from the grave nor redeem their sins nor follow them after death. But God will redeem His people from the grave.
The parable sees death as the shepherd of those who rely on wealth, herding them to the grave, where it will feed on them. In contrast, God will gather His people to Himself. Jesus spends considerable time telling this same story, making this an OLD TESTAMENT PARABLE.
15: But God will ransom my soul from the power of Sheol, for he will receive me.
An image of God judging His people. Sacrifices do God no good, for He owns all the cattle of the world. Instead, He seeks sacrifices of thanksgiving; He even longs for our dependence on Him for help. God's present silence in the face of sin will not continue forever.
Like Amos, Micah, and Isaiah among others, this psalm looks forward to the time when animal sacrifices cease and we focus on a heart turned toward God, which is what He truly desires from us. Sacrifices are for us, not for Him.
12: "If I were hungry, I would not tell you, for the world and its fullness are mine."