I'm not sure whether the Fiddler on the Roof writers1 were thinking of Numbers 30:3–5 when they wrote Tevye's lament about Tzeitl and Motl, where he mutters, "They gave each other a pledge—unthinkable, absurd!"
But I am.
Tzeitl is Tevye's eldest daughter. Tevye, on the advice of Yente the matchmaker, has just agreed for Tzeitl to marry Lazar Wolf, the butcher. But then he learns that Motl and Tzeitl are in love and have pledged themselves to each other without his knowledge.
Now Tevye is a devout Jewish man, but he often misquotes the Torah or, more commonly, attributes sayings to the Torah that are not found there. So to avoid the same mistake, let's look at the verses in question directly.
"As the Good Book says…"
Also when a woman vows a vow to Yahweh, and binds herself by a bond, being in her father's house, in her youth, and her father hears her vow, and her bond with which she has bound her soul, and her father holds his peace at her; then all her vows shall stand, and every bond with which she has bound her soul shall stand. But if her father forbids her in the day that he hears, none of her vows, or of her bonds with which she has bound her soul, shall stand. Yahweh will forgive her, because her father has forbidden her.
—Numbers 30:3–5
Motl, as a man, may make his own pledge (Numbers 30:2), so he's in the clear under Mosaic law. Tzeitl, as a woman still in her father's house, may also do so, but her father Tevye has the right to object and make the vow void as long as he objects within the day he hears of it.
So Tevye is within his legal and religious rights to cancel Tzeitl's pledge. But this passage makes it clear that he's also within his rights to let the pledge stand and make her just as subject to it as Motl was.
The decision is entirely his, not dictated either way by the law, but only by culture. Moses's only requirement is that he decide that day. Here, of course, is the central conflict of the entire story of Fiddler: the balance of religion, family, tradition, culture, and love.
Tevye is a devout man, but he loves his daughters more than anything else. He walks off and talks to himself for a while. "Unthinkable! Absurd!"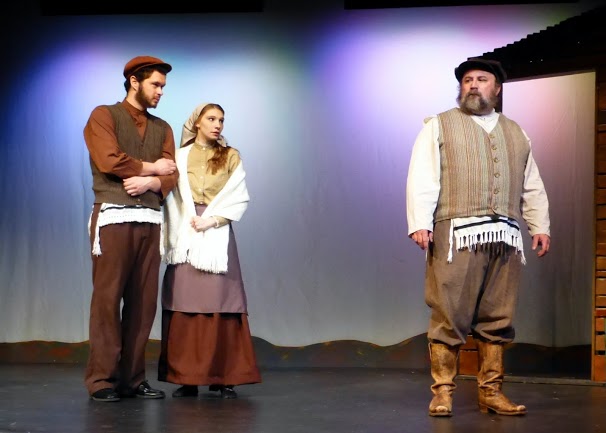 Tevye eventually decides to honor Tzeitl's pledge, taking on himself both the humiliation of breaking off the engagement with the very rich Lazar Wolf and the terrible task of breaking the news to his wife Golde.
I love Fiddler on the Roof, and I hope this little connection of that beautiful story with God's beautiful story brings you as much delight as it does me.
Fiddler was written by Sheldon Harnick and Joseph Stein in 1964, but it was based on a series of stories about the main character Tevye written by Sholem Aleichem in 1894. ↩